New ERIBA Touring Familia 310
ERIBA Touring Familia 310
The new ERIBA Familia 310 is part of ERIBA's popular touring range which are famous for their retro style and intelligent design. The compact body with the lifting roof are instantly recognisable and handling on the road is superb thanks to design principles applied from aircraft engineering.
The ERIBA Touring Familia 310 is available in the following finishes
Urban - White (Standard)
Legend - White Silver
Examples of these can be found on our main ERIBA Touring page.
Living
The Familia 310's living area is deceptively spacious once you're inside, helped by the extra headroom when the pop-top roof is open. The décor features modern furnishings with retro touches. LED lighting is integrated with the overhead lockers and can be individually controlled to create the perfect ambiance. Plenty of natural light floods into the space during the day too through large windows at the front.
The cleverly designed space also provides plenty of storage space with overhead lockers and enormous chests beneath the bench seats. This is a great place to store the bedding for the single bed while not in use.
Sleeping
You can look forward to a restful night's sleep as the 310 features a foam mattress with a soft drill cover. There's also a reading light with a sensor so you can relax with a book. Concealed under the slats of the bed frame is another huge storage space which is easily opened without removing any of the bedding.
Kitchen
There is plenty of space for you to prepare delicious meals in the Familia 310 thanks to a handy worktop extension and covers for the hob and sink. The sink cover doubles as a chopping board and there's a cutlery drawer, overhead lockers and a cabinet to help keep everything organised. A two-ring hob comes as standard and will allow you to cook your favourite meals on the road. There's even enough room for a 90 litre fridge with a freezer compartment to keep all your supplies chilled.
ERIBA Touring Familia 310 Technical Specifications
Berth: 3
Length: 4.83m
Width: 2m
Height: 2.26m
MTPLM: 900-1050kg
MiRO: 720kg
Total User Payload: 180-330kg
Highlights
Perfect interior climate thanks to lifting roof canvas window
Unique design principle based on aircraft engineering
Optimal road holding characteristics and driving safety
Optimal brake force thanks to AAA Premium Brake
1.95 m headroom thanks to ERIBA lifting roof
Chassis
Fully galvanized tubular frame chassis with trailing arm axle and fully galvanized axle body
Extra long drawbar for more driving stability and enough space for a drawbar carrier
Automatic brake adjustment (short braking distances and more driving comfort due to gentle braking without jerky emergence)
Anti-skid coupling with 4 friction pads and one-handed operation (suppresses rolling and pitching movements)
Plastic cover for drawbar
Galvanised plug-in corner steadies
Mud flaps
Body
One-piece entrance door with storage shelf and storage net on the inside of the door
Pop-top roof tent fabric with ventilation and integrated mosquito net
All windows with mosquito net, blackout blind and ventilation
All windows tinted and with double acrylic glazing
Integrated front storage compartment for 2 x 5 kg gas bottles
Extendable entrance step
Pop-top roof, GRP for reduced hail sensitivity.
Stable grab handles at the front, continuous manoeuvring handle at the rear
Insulated gas bottle compartment with robust and light aluminium chequer plate floor and low loading edge
Front flap with parallelogram opening and low loading edge
360 Tour - ERIBA 310 Legend, Fixed Bed Version
The ERIBA Touring Familia 310 is available in the following layouts:
Fixed Bed - Standard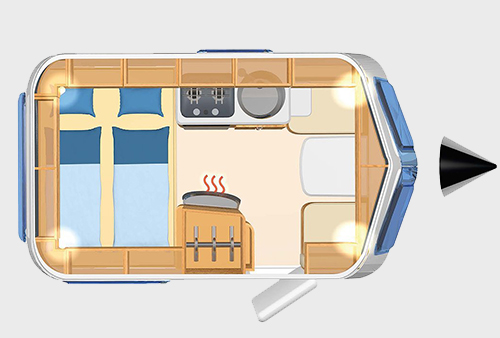 Seating group in the rear (Optional - Additional charge applies)
---
| | |
| --- | --- |
| Overall Length approx. cm | 506 |
| Body length approx. cm | 371 |
| Overall width approx. cm | 200 |
| Overall height (closed pop top roof) approx. cm | 227 |
| Internal length approx. cm | 366 |
| Internal width approx. cm | 190 |
| Maximum headroom in living area (opened pop top roof) approx. cm | 195 |
| Unladen weight approx. kg | 742 |
| Mass in running order approx. kg | 765 |
| Maximum payload approx. kg | 135 - 285 (O) |
| Maximum permitted mass kg | 900 - 1050 (O) |
| Axle | Mono |
| Tyre size | 185/70 R13 86 N |
| Floor thickness mm | 35 |
| Side walls / roof approx. mm28/26 | 28/26 |
| Berths | 3 |
| Bed size front L x W approx. cm | 188 x 73 - 53 /188 x 73 (O) |
| Bed size rear L x W approx. cm | 188 x 140 |
| Refrigerator capacity approx. l | 81 |
| Heating type | Gas heating 3.5 kW |
| Fresh water tank l | 12 / 30 (O) |
| Awning length approx. cm | 635 |
(O) = Optional Extra
Please contact us for more information.
ERIBA Touring specifications and pricing are subject to change without notice. All prices are stated in GBP£, inclusive of UK VAT at 20.0% & On The Road Charges (OTR including delivery from Germany, registration and PDI) valid as of 1st August 2022. Possible import duties are not included and will be charged separately.
Enquire about this vehicle?