Meet the Team
Sales Director - Michael Hold
Michael is our Sales Director and the Company 'front man'. Well known in the Leisure Vehicle Industry for 5 decades, he started selling Caravans in his early teens at the family business, Dave Barron Caravans in Lancashire which he developed into The Barron Group over 20 years with his father Gordon and brother David. Michael is happiest when with customers, whether face to face or exchanging witty one liner e-mails. He is passionate about all the cool vehicles we sell and Liverpool Football Club….Michael lives in nearby Kirkby Lonsdale with his wife Jo who also helps out on Sales when called upon. They even met on the ALV stand at the Caravan and Motorhome Show in Manchester, back in 2015…the rest is history...as they say.
---
Sales Manager - Faye Unsworth
Faye took over the seat of Sales Manager in April 2016 after numerous years in Catering Management, taking up a passion for ERIBA Touring Caravans at Adventure LV, and is committed to trying out each of our brands (with her 3 young children and her partner Phil) we now represent, Faye is extremely driven and is happiest when her customers are happy!
---
Rent Easy Manager & Camper Van Sales - Phil Unsworth
Phil has been with us since February 2020 and looks after the Rent Easy Camper Van Hire part of the company. Phil also helps in sales, and is our go to person with anything regarding the HYMER Camper Van range we stock.
---
Customer Service Assistant - Caroline Bryce
After 20 years as a flight attendant, Caroline decided it was time to spend more time at home with her 2 children, finding work closer to home. Being new to the caravan industry she is learning something new everyday, by helping with customer phone calls, email enquiries or in person by welcoming our visitors to our Showroom and Service Centre.
---
Service Manager - Mike Wysocki
Mike started with Adventure Leisure Vehicles in April 2017. Over this time with us he has gained a vast amount of product knowledge relating to the caravan & motorhome industry.
---
Service Assistant - Jasmine Brown
Jasmine started with Adventure Leisure Vehicles in March 2019 to assist in our Service and After Sales department. Jasmine originally started training as a paramedic until her son was born. It was then she found her love for the great outdoors and caravanning.
---
Head Technician - Jon Davison
Jon is Head Technician at Tebay and our resident miracle worker. He has the patience of a saint and the work ethic of a Challenger tank, perhaps unsurprising as his apprenticeship was with Vickers Defence building tanks. Jon is not on e-mail, but is always at the end of the telephone for any customer who needs him. Jon was in the prototyping team at Elddis in Consett before joining Adventure Leisure Vehicles, so is well used to finding solutions to any problem and to all types of caravan construction.
---
Handover Specialist & Technician - Ernie Willie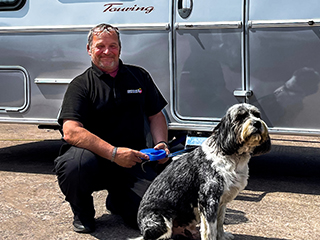 Ernie is a customer favourite, as well as being an excellent technician with extensive knowledge of Leisure Vehicles, he is our lead specialist for giving a thorough, but not overly complicated vehicle handover to customers who are collecting their New or Pre Loved Vehicle from us.
---
Office Manager - Jenny Brimble
Jenny joined ALV in the summer of 2013 and is our Office Manager, looking after all our Administration and organising our Summer Rallies. With one daughter at Uni and another in 6th form Jenny now has more spare time to walk her Border Terrier puppy on the local fells with her husband Jeff, who you might also meet as acting barman at our Rallies.
---
Digital Marketing Manager - Rick Parker
Rick started with Adventure Leisure Vehicles in April 2018 to boost our online presence, and also help out when and where needed. He previously worked for Deloitte in Manchester for 11 years before heading north to Cumbria to get away from city life. Rick still travels back to DJ in Manchester once a month, enjoys photography, and is an avid Sunderland AFC supporter!.