Meet the Team
Managing Director - Michael Hold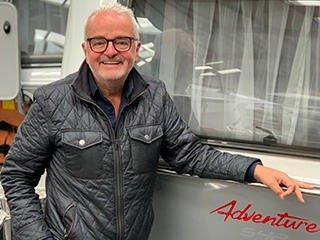 Meet Michael, our esteemed Managing Director and the charismatic face of the company. With a solid reputation spanning over five decades in the Leisure Vehicle Industry, Michael's journey began in his early teens when he started selling Caravans at his family business, Dave Barron Caravans in Lancashire. Alongside his father Gordon and brother David, he played a pivotal role in transforming it into The Barron Group over a span of 20 years.
Michael's true joy lies in interacting with customers, whether it's through face-to-face encounters or exchanging witty one-liner emails. His enthusiasm for the remarkable vehicles we offer is contagious, matched only by his unwavering support for Liverpool Football Club. Michael resides in the picturesque town of Kirkby Lonsdale, near our Adventure LV headquarters, along with his wife Jo, who lends a hand in Sales whenever needed. It's worth mentioning that they met on the ALV stand at the Caravan and Motorhome Show in Manchester back in 2015, and the rest is history, as they say.
---
Director of Operations & ERIBA Specialist - Faye Unsworth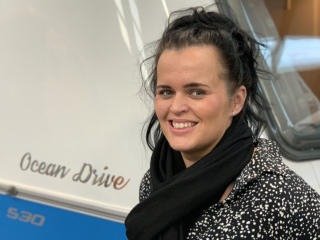 In April 2016, Faye assumed the role of Sales Manager at Adventure LV, and her dedication and commitment soon led to her promotion as the Director of Operations in 2022. With a background in Catering Management, Faye developed a profound passion for ERIBA Touring Caravans and embraced the opportunity to work with the diverse range of brands we represent. Alongside her husband Phil and three young children, Faye eagerly explores and experiences each of our offerings first-hand.
Driven by her determination to ensure customer satisfaction, Faye finds her utmost happiness when her customers are delighted with their experiences. Her enthusiasm and dedication make her an invaluable asset to the Adventure LV team.
---
Camper Van Specialist - Phil Unsworth
Since joining our team in February 2020, Phil has become our go-to expert for all things related to Motorhomes and Camper Vans. His extensive knowledge and expertise are particularly focused on the HYMER Camper Van range that we proudly stock. With a passion for these vehicles, Phil is dedicated to providing exceptional guidance and support to our valued customers.
---
Service Manager - Rob Coram
With over 30 years of industry experience, our Aftersales Manager is a valued member of our team. It brings him great joy to work alongside Michael Hold once again, who gave him his very first role. Rob is truly dedicated to providing exceptional customer service and technical support, ensuring our customers receive the highest level of care. Outside of work, Rob indulges in his passion for riding motorbikes and takes pride in cheering for the All Blacks as a proud Kiwi.
---
Head Technician - Jon Davison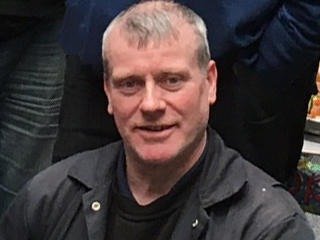 Meet Jon, our illustrious Head Technician at Tebay, known for his exceptional skills and problem-solving abilities. With the patience of a saint and a work ethic akin to a Challenger tank, it's no surprise that Jon's background includes an apprenticeship with Vickers Defence, where he specialised in building tanks.
Although Jon may not be reachable via email, rest assured that he is always just a phone call away, ready to assist any customer in need. Having been part of the prototyping team at Elddis in Consett before joining Adventure Leisure Vehicles, Jon is well-versed in finding solutions to any challenge and is experienced in all types of caravan construction.
Jon's dedication, expertise, and commitment to customer satisfaction make him an invaluable asset to our team. You can trust that he will go above and beyond to ensure your needs are met and your caravan is in the best possible hands.
---
Technician - Pip Zucchetti
Pip brings with him eight years of experience as a mechanic in Lincolnshire before joining our workshop team in November 2021. Since then, he has rapidly acquired extensive product knowledge and has become an invaluable asset to our team at ALV. Pip is genuinely enthusiastic about his role here and takes great pleasure in delivering top-notch service.
Outside of work, Pip resides locally in Kendal and nurtures a genuine passion for working on his own car. This dedication and hands-on experience further enhance his expertise and commitment to providing exceptional service. With Pip on board, you can trust that your vehicle is in capable hands and will receive the utmost care and attention.


---
Office Manager - Jenny Brimble
Jenny became a valued member of the ALV team in the summer of 2013, taking on the crucial role of Office Manager and overseeing all our administrative tasks. With her two daughters now attending University in Durham and Lancaster, Jenny finds herself with more free time to indulge in her passion for fell walking. Accompanied by her husband and their beloved Border Terrier, she is actively working towards completing the renowned 'Wainwrights' in the picturesque Lake District National Park. Jenny's dedication to both her work and her outdoor pursuits reflects her commitment to excellence and a well-rounded lifestyle.
---
Digital Marketing Manager - Rick Parker
Rick joined Adventure Leisure Vehicles in April 2018 to enhance our online presence and provide support wherever needed. Prior to this, he spent 11 years working for Deloitte in Manchester before deciding to embrace a more rural lifestyle up north. Rick now resides on a charming small holding with his partner Jonathan, along with their farm cat Storme and lively PatterJack Terrier named Rowell.
Their small holding is home to a delightful collection of over 45 rare breed chickens and 15 bee hives that produce the delectable Hazelrigg Honey. While Rick occasionally travels back to DJ in Manchester, he thoroughly enjoys exploring his passion for photography and proudly supports Sunderland AFC.
Rick's diverse background and dedication to Adventure Leisure Vehicles make him an invaluable asset to our team. His enthusiasm for his work and varied interests bring a vibrant energy to our company, ensuring that we continue to provide exceptional service and a personal touch to all our customers.