Caravan & Motorhome Service
All servicing at Adventure Leisure Vehicles is handled by trained, experienced and approved professionals. Servicing is offered for European specification Airstreams, [email protected]'s, Buccaneer's and all ERIBA caravans, and we gladly support our ERIBA, HYMER CAMPER VANS, COACHMAN, LANDSEER [email protected], BUCCANEER & KNAUS customers.
Our technicians are trained in chassis maintenance, habitation checks and ACOPS gas certified with expert knowledge of caravan construction and systems, having designed and fitted out all the European Airstreams ourselves, in our workshop since 2006.
We can obtain parts from Airstream, Knaus-Tabbert (for [email protected]) and Hymer (for Eriba) as required.
Approved Touring Caravan & Motorhome Servicing
We are part of The Approved Workshop Scheme, this is a joint enterprise between the NCC (National Caravan Council), The Caravan and Motorhome Club and The Camping and Caravanning Club. Originating on the 1st January 1978, and the only scheme to be supported by all of the major UK manufacturers, The Approved Workshop Scheme is now the UK's largest group of independently assessed workshops and is seen as the benchmark for motorhome and touring caravan servicing in the UK.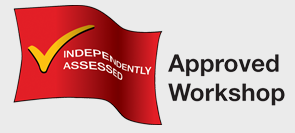 Approved workshops must pass an annual inspection by a team of independent assessors and must comply with the Scheme's rigorous standards. So you'll know that the right things are done, by the right people and to a high standard.
---
ALV Club
If you've purchased a Caravan, Travel Trailer or Motorhome from us then you're part of the ALV Club, where you can benefit from discounted prices on services and parts. Not only that, you are invited to our Annual Customer Rally every year in June.
Servicing pricing shown below includes labour and sundries (incl. one shot hub nuts) but excludes other parts, if any out of the ordinary parts are found to be required you will be notified before costs are incurred:
Caravan Service
Single Axle Caravan: £250 (ALV Club Member £230)
Twin Axle Caravan: £270 (ALV Club Member £250)
Single Axle Caravan Combined with Water Ingress Check: £365 (ALV Club Member £330)
Twin Axle Caravan Combined with Water Ingress Check: £385 (ALV Club Member £350)
Airstream (European Specification) Service
Single Axle: £475
Twin Axle: £525
Motorhome Habitation Service:
Campervan: £210 (ALV Club Member £199)
Coach built: £240 (ALV Club Member £225)
A-Class: £260 (ALV Club Member £245)
Campervan Combined with Water Ingress Check: £325 (ALV Club Member £299)
Coach built Combined with Water Ingress Check: £355 (ALV Club Member £325)
A-Class Combined with Water Ingress Check: £375 (ALV Club Member £345)
Other:
Gas Check £120 (ALV Club Member £100)
Water Ingress Test: £140 (ALV Club Member £130)
Electrical Installation Condition Report £180
Independent Pre-Purchase Caravan Check £350
Independent Pre-Purchase Motorhome Check £350
Technician Hourly Rate £95
Prices above include VAT
Click here to see an example of the work we carry out as part of an Annual Service.
Following the latest Government announcements, our service & sales department at Adventure Leisure Vehicles are as busy as ever! Although we are striving to accommodate every customer, please be aware that due to extremely high demand our booking dates for service & repairs are all on a first to confirm basis.
To request a service appointment or repair please call us on 01539 624141 or email [email protected] we will require your vehicles VIN number.
Please note: We only accept cash, card or bank transfer as payment in our service department.