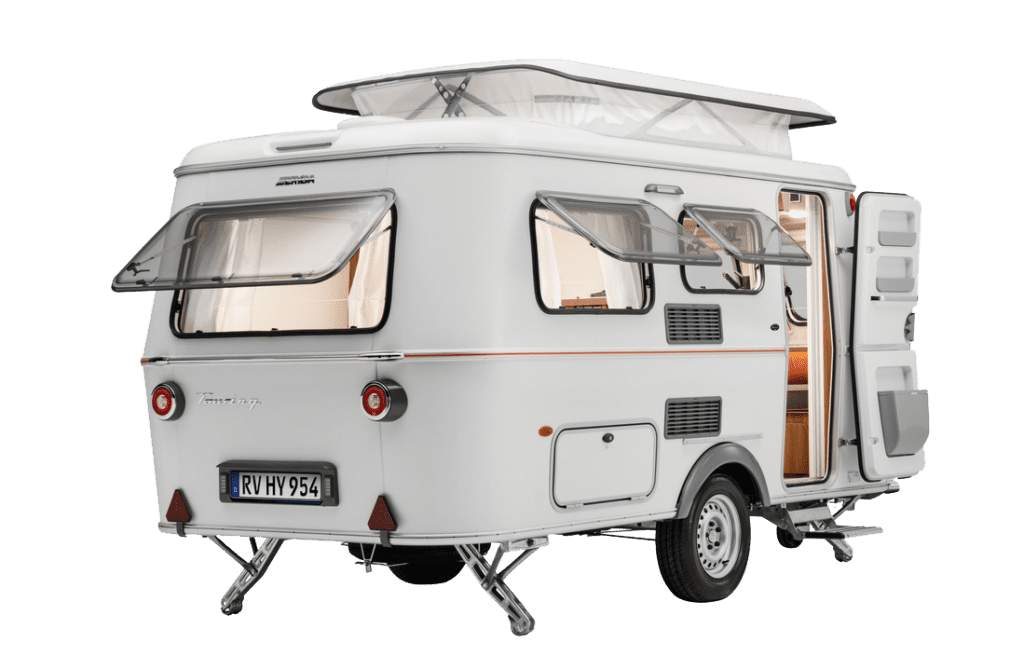 FREE MOTOR MOVER OFFER!
Take advantage of our limited-time special offer of FREE MANUAL MOTOR MOVERS with all new ERIBA Touring Caravans, or upgrade to automatic for just an additional £200!*


Blending sophisticated design with travel-ready functionality, the ERIBA Touring 430 caravan offers a unique escapade into the realm of luxury on wheels. Its thoughtful design, combined with modern amenities, encapsulates the spirit of adventure without compromising on comfort, making it an unparalleled choice for those yearning for unforgettable journeys.
Streamlined Design and Aerodynamics
The ERIBA Touring 430 stands out with its sleek, aerodynamic design that not only adds to its visual appeal but also ensures optimal performance on the road. This caravan strikes the perfect balance between aesthetics and functionality, promising to turn heads wherever it goes.
Inviting Interior & Comfort
As you step into the Touring 430, the meticulous design becomes evident. The caravan exudes an air of sophistication and warmth, ensuring travellers always feel at home. Designed to prioritise comfort, every corner of the interior speaks of luxury and convenience.
Optimal Living and Relaxation Space
Central to the caravan is the generously spaced living area. Whether it's for relaxation or entertainment, the space, adorned with ample seating, sets the stage for memorable moments. The transition from daytime activities to night time rest is seamless, with the sleeping area promising restful slumbers after a day of adventure.
Efficient Kitchenette for Culinary Delights
The Touring 430 doesn't compromise on its culinary space. The practical kitchenette, though compact, comes equipped with essential appliances and utilities, ensuring meals can be prepared with ease.
Modern Washroom Amenities
Travelling doesn't mean compromising on daily essentials. The caravan's washroom stands as a testament to this, complete with a toilet, sink, and an optional pull-out shower head. It's an intimate space designed to rejuvenate travellers after a long day.
Innovative Storage and Organisation
One of the standout features of the Touring 430 is its ingenious storage solutions. The caravan's layout maximises space, ensuring belongings have a designated spot, keeping clutter at bay and organisation at its peak.
Performance and Stability
Beyond its luxurious interiors, the Touring 430's construction prioritises performance. Its lightweight design, coupled with a robust chassis, guarantees not only effortless towing but also stability, making road journeys smoother and more enjoyable.
360 Tour
Legend & Urban
The ERIBA Touring 430 is available in the following finishes
Carra White in Hammer-tone (Standard)
White & Silver Smooth Metal
Crystal Silver Smooth Metal
Nugget Gold & White Smooth Metal
Tango Red & White Smooth Metal
Harbour Blue & White Smooth Metal
Examples of these can be found on our main ERIBA Touring page.
*The Free Motor Mover offer applies exclusively to new ERIBA Tourings and is available for a limited time. This offer can be withdrawn at any time. Terms and conditions apply. Not valid in conjunction with any other promotions. Please contact us for further details.