Annual Service
A yearly Caravan or Motorhome Service is the best way of ensuring your Leisure Vehicle performs to it's best and is also a requirement to uphold your Manufacturers Warranty.
Below is an example of the checks we do when your Leisure Vehicle is booked in with us.
Chassis & Equipment
Coupling Head / Overun Assembly / Safety Cable
Chassis & Chassis to Body Security
Hitch Head Stab: Check Friction Pads
Handbrake Operation/Brake Lever
Wheel Bearings/Brake Linings / Rods & Linkages
Spare Wheel & Carrier (If applicable)
Corner Steadies
Jockey Wheel
Suspension
Suspension Assembly & Shock Absorbers
Tyres /Condition / Specification / Wear
Tyre Pressure
Wheel Nut Torque
Road Lighting & 12v System
Road Lights Wiring & Reflectors
12N & 12S Plugs
Jaeger & West
Water System
Water Pump / Tanks / Gauges
Taps / Outlets
Inspect Pipework / Couplings for security
Pressurise Water System: Leak check
240v Function Test & Visual Inspection
Inlet Socket /Cables RCD / Socket Outlets
Wiring & Fuses
RCD Test
Gas System
Gas System (Soundness Test)
Flame Failure Device (If fitted)
Regulator Lock Off Pressure
Regulator Run In Pressure
Pipework
Appliances (Safe to Use)
Fixed Ventilations / Adjust Vents / Rooflights
Manufacturers Designated Working Pres
Additional Checks
Blinds / Fly Screen (Functional test)
Furniture & Windows (Hinges/stays etc)
Smoke Alarm
Grab Handle Security
Exterior Locks & Hinges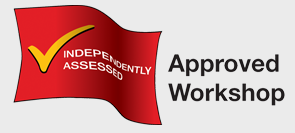 Please Note: The above is for example only and some checks may differ between vehicles.
To request a service appointment, or for technical advice, please contact our Service Department. We will require your vehicle Make, Model, Year and VIN number, as it will help us deal with your enquiry more efficiently.
Phone: 01539 624141
Email: [email protected]