New ERIBA Touring Troll 530
ERIBA Touring Troll 530
The ERIBA Troll 530 is one of Eriba's iconic touring caravans. This three-berth model is effortlessly stylish and provides you with everything you'll need to keep you comfortable on the road. Its small size and streamlined design have the advantage of not needing a large car to tow it. Erbia took inspiration from aircraft engineering when designing their touring caravans resulting in top-class construction you can really rely on. If you want to stand out from the crowd, the Eriba Troll 530 could be for you.
The ERIBA Touring Troll 530 is available in the following finishes
Urban - White (Standard)
Legend - White Silver
Examples of these can be found on our main ERIBA Touring page.
Living
The lounge benefits from the V-shape at the front of the caravan. The split windows let in plenty of light and there's a little extra space. The seating is comfortable and spacious for two adults. The table attaches to the front of the caravan under the windows, however, it can also be moved outside and fixed to the side of the van, allowing you to make the most of the outdoors.
Sleeping
The standard fixed rear bed features a comfortable foam mattress, setting you up for a good night's sleep. There is also a large storage compartment found underneath the bed. The lounge converts to make up a spacious single at the front. (Also available as a multifunctional rear dinnete as an option)
Washroom
Eriba's intelligent space-saving design really shows in the bathroom. You'll find everything you need in this compact space. A sink, toilet, shower and vanity unit are all provided. No need to worry about privacy when the pop-top roof is open either - the fabric liner takes care of that.
Kitchen
The compact kitchen is cleverly laid out and is equipped with all the appliances you'll need on the road. A large sink and two-burner hob can both be covered to create a good amount of work surface. This can be extended further with an extension flap. The large fridge also has a handy freezer compartment and there's plenty of cupboard space for all your kitchen essentials and supplies.
ERIBA Touring Troll 530 Highlights
Perfect interior climate thanks to lifting roofcanvas window
Unique design principle based on aircraft engineering
Optimal road holding characteristics and driving safety
Optimal brake force thanks to AAA Premium Brake
1.95 m headroom thanks to ERIBA lifting roof
Chassis
Fully galvanized tubular frame chassis with trailing arm axle and fully galvanized axle body
Extra long drawbar for more driving stability and enough space for a drawbar carrier
Automatic brake adjustment (short braking distances and more driving comfort due to gentle braking without jerky emergence)
Anti-skid coupling with 4 friction pads and one-handed operation (suppresses rolling and pitching movements)
Plastic cover for drawbar
Galvanised plug-in corner steadies
Mud flaps
Body
One-piece entrance door with storage shelf and storage net on the inside of the door
Pop-top roof tent fabric with ventilation and integrated mosquito net
All windows with mosquito net, blackout blind and ventilation
All windows tinted and with double acrylic glazing
Integrated front storage compartment for 2 x 5 kg gas bottles
Extendable entrance step
Pop-top roof, GRP for reduced hail sensitivity.
Stable grab handles at the front, continuous manoeuvring handle at the rear
Insulated gas bottle compartment with robust and light aluminium chequer plate floor and low loading edge
Front flap with parallelogram opening and low loading edge
360 Tour - ERIBA 530 Legend, Fixed Bed Version
The ERIBA Touring Troll 530 is available in the following layouts:
Fixed Bed - Standard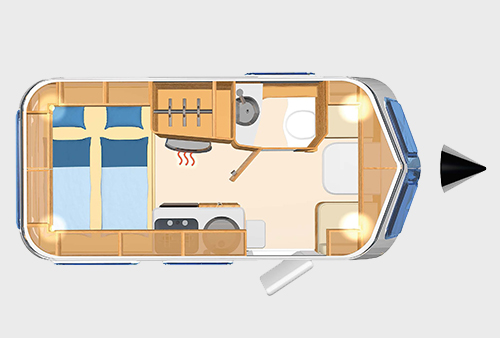 Seating group in the rear with opening window, left hand side (Optional - Additional charge applies)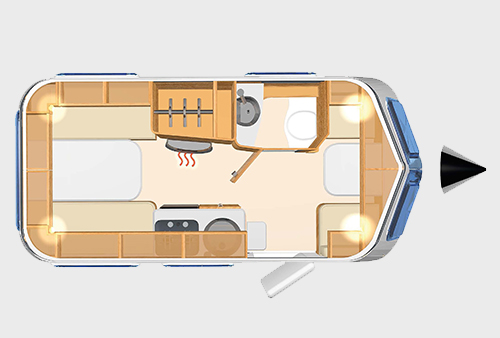 ---
| | |
| --- | --- |
| Overall Length approx. cm | 599 |
| Body length approx. cm | 471 |
| Overall width approx. cm | 210 |
| Overall height (closed pop top roof) approx. cm | 227 |
| Internal length approx. cm | 466 |
| Internal width approx. cm | 200 |
| Maximum headroom in living area (opened pop top roof) approx. cm | 195 |
| Unladen weight approx. kg | 951 |
| Mass in running order approx. kg | 997 |
| Maximum payload approx. kg | 310 - 400 (O) |
| Maximum permitted mass kg | 1300 - 1400 (O) |
| Axle | Mono |
| Tyre size | 185 R14 C 102 Q |
| Floor thickness mm | 35 |
| Side walls / roof approx. mm28/26 | 28/26 |
| Berths | 3 |
| Bed size front L x W approx. cm | 198 x 98 - 94 |
| Bed size rear L x W approx. cm | 198 x 140 |
| Refrigerator capacity approx. l | 81 |
| Heating type | Gas heating 3.5 kW |
| Fresh water tank l | 12 / 12 / 30 (O) |
| Awning length approx. cm | 730 |
(O) = Optional Extra
Please contact us for more information.
ERIBA Touring specifications and pricing are subject to change without notice. All prices are stated in GBP£, inclusive of UK VAT at 20.0% & On The Road Charges (OTR including delivery from Germany, registration and PDI) valid as of 1st August 2022. Possible import duties are not included and will be charged separately.
Enquire about this vehicle?