Isabella Double Gas Stove
Cook on the go and operate without electricity.
With Isabella's double gas stove, you can cook whether you are on a campsite or in the middle of nowhere. The camping gas stove is handy to have on the go. So your imagination is the only limit for your outdoor dining experiences.
The gas stove is made of stainless steel and is easy to clean.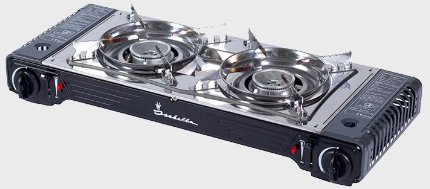 Butane gas, 160 g/h x 2
2.2 kW x 2
Flame Supervision Device
Dimensions: 67.9 x 28.6 x 12.5 cm
Weight: 6 kg
This appliance can be used with a standard type SSN-29 butane gas cartridge
£99 (Not available for delivery)
The Isabella Double Gas Stove combines perfectly with the Isabella Freestander Kitchen, Click Here for more details.
Isabella Double Gas Stove Enquiry Form