New ERIBA Touring Troll 540
ERIBA Touring Troll 540
ERIBA Touring Caravans manage to combine retro and vintage styling with modern luxuries. The ERIBA Touring Troll 540 will allow you to travel in style without sacrificing any comforts. The pop-top and split window at the front are instantly recognisable. This famous profile has taken inspiration from aircraft engineering and is aerodynamic on the road. This means that even smaller vehicles will have no trouble towing this caravan. This is the perfect balance of substance and style.
The ERIBA Touring Troll 540 is available in the following finishes
Urban - White (Standard)
Legend - White Silver
Examples of these can be found on our main ERIBA Touring page.
Living
At the front of the caravan, the ergonomically designed lounge area is comfortable yet practical. The seats provide plenty of support while extra storage space is concealed beneath. Thanks to the large windows and pop-top roof, this space feels large and bright. This is the perfect spot to plan the day's adventures, or curl up with a book.
To the rear of the ERIBA Troll 540, you'll find an even larger living space. There is plenty of room here for four to sit comfortably.
Sleeping
Both living spaces convert quickly and easily into sleeping quarters. The beds are spacious, at just under 2m in length and reading lights help create a cosy and relaxing ambiance. Everyone will wake up refreshed and ready for the day's activities.
Washroom
ERIBA's bathrooms are intelligently designed to use every inch of space efficiently. You'll have plenty of room to store your bathroom essentials and features such as tension straps will ensure that these stay firmly in place. A large mirror, bench toilet and wash basin all come as standard to help you get ready for the day ahead.
Kitchen
The kitchen provides all the amenities you'll need on the road. You'll have plenty of space for food preparation thanks to hob and sink covers and a worktop extension. A large fridge provides plenty of food storage space and drawers and overhead lockers will help keep your utensils organised.
ERIBA Touring Troll 540 Highlights
Perfect interior climate thanks to lifting roof canvas window
Unique design principle based on aircraft engineering
Optimal road holding characteristics and driving safety
Optimal brake force thanks to AAA Premium Brake
1.95 m headroom thanks to ERIBA lifting roof
Chassis
Fully galvanized tubular frame chassis with trailing arm axle and fully galvanized axle body
Extra long drawbar for more driving stability and enough space for a drawbar carrier
Automatic brake adjustment (short braking distances and more driving comfort due to gentle braking without jerky emergence)
Anti-skid coupling with 4 friction pads and one-handed operation (suppresses rolling and pitching movements)
Plastic cover for drawbar
Galvanised plug-in corner steadies
Mud flaps
Body
One-piece entrance door with storage shelf and storage net on the inside of the door
Pop-top roof tent fabric with ventilation and integrated mosquito net
All windows with mosquito net, blackout blind and ventilation
All windows tinted and with double acrylic glazing
Integrated front storage compartment for 2 x 5 kg gas bottles
Extendable entrance step
Pop-top roof, GRP for reduced hail sensitivity.
Stable grab handles at the front, continuous manoeuvring handle at the rear
Insulated gas bottle compartment with robust and light aluminium chequer plate floor and low loading edge
Front flap with parallelogram opening and low loading edge
360 Legend Tour
The 360 image above is for guidance only - Legend model shown...Upholstery selection may differ from UK models.
The ERIBA Touring Troll 540 is available in the following layouts:
Seating group in the rear with opening window, left hand side - Standard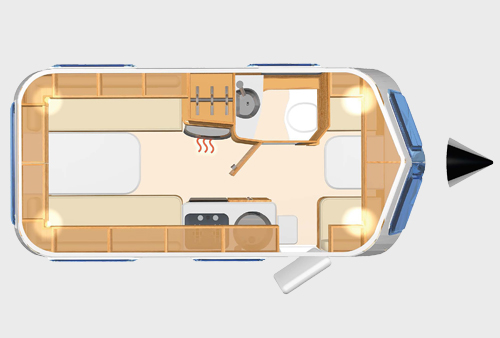 Longitudinal single beds with pull-out bed slats and free-standing table
(Optional - Additional charge applies)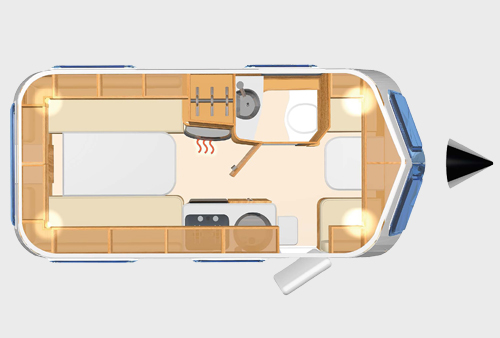 ---
| | |
| --- | --- |
| Overall Length approx. cm | 599 |
| Body length approx. cm | 471 |
| Overall width approx. cm | 210 |
| Overall height (closed pop top roof) approx. cm | 227 |
| Internal length approx. cm | 466 |
| Internal width approx. cm | 200 |
| Maximum headroom in living area (opened pop top roof) approx. cm | 195 |
| Unladen weight approx. kg | 962 |
| Mass in running order approx. kg | 997 |
| Maximum payload approx. kg | 303 - 393 (O) |
| Maximum permitted mass kg | 1300 - 1400 (O) |
| Axle | Mono |
| Tyre size | 185 R14 C 102 Q |
| Floor thickness mm | 35 |
| Side walls / roof approx. mm28/26 | 28/26 |
| Berths | 3 |
| Bed size front L x W approx. cm | 198 x 73 - 60 |
| Bed size rear L x W approx. cm | 190 x 198 |
| Refrigerator capacity approx. l | 81 |
| Heating type | Gas heating 3.5 kW |
| Fresh water tank l | 12 / 12 / 30 (O) |
| Awning length approx. cm | 730 |
(O) = Optional Extra
Please contact us for more information.
ERIBA Touring specifications and pricing are subject to change without notice. All prices are stated in GBP£, inclusive of UK VAT at 20.0% & On The Road Charges (OTR including delivery from Germany, registration and PDI) valid as of 1st August 2022 . Possible import duties are not included and will be charged separately.
Enquire about this vehicle?