The following stylish tiny houses on wheels have domestic-style fittings to make them durable and comfortable as business units, accommodation for glamping, campsites and holiday parks, or as a home office or extra room for family or staff. They are fully insulated to enable them to be warm and comfortable all year round and can be used as a self contained unit or connected to mains power, water and sewerage.

A sturdy steel-frame construction and wood-panelled side walls make Mooble House tiny houses strong and durable, plus they are also fully road legal (built on an AL-KO twin chassis as used for trailers and caravans) so can be towed anywhere by a vehicle with a towing capacity of up to 3,500kg, making them easy to deliver, set-up or move as required.

There are five Mooble House models available, ranging in size from 4.5m to 6.75m body lengths (the same size as a large caravan), each with double-glazed aluminium windows and doors, fitted kitchen units and a bathroom with shower and toilet, plus an extensive list of options to customise specifications to suit every budget. They can sleep up to four people, with some models featuring a bedroom on a mezzanine level.
---
Mo.2-675 Highline
The Mo.2 675 Highline Mooble Tiny House models sleeping and living areas are designed as separate spaces. The continuity of the furniture with its ability to transform into different functions are adopted in the design philosophy. Thanks to the folding wall bed in the sleeping area, when not in use, a new space is created for use as you wish. In the living area, the sofa bed, or optional sofa with fixed desk which converts to a dining table when opened up, also contain useful storage areas. This model is 6.75 meters long and is suitable for use by up to 4 people.
Body Length: 6.75m
Body Width: 2.5m
Height: 3.8m
Berth: 4
---
Mo.2-675V Highline
The towable Mo.2 675V Mooble Tiny House model is a two berth open plan variation of the standard highline at 6.75m long, also built on a twin axle AL-KO chassis, offering a great abundance of natural light through the Velux window and rear patio doors which also create a stunning focal point. The kitchen area includes a sink, two burner hob, storage, and fridge, meanwhile the washroom offers a shower, sink and toilet. This Mo.2 675V body length is 6.75 meters and is suitable for use by up to 2 people.

Body Length: 6.75m
Body Width: 2.5m
Height: 3.8m
Berth: 2
---
Mo.4-450 S Home Office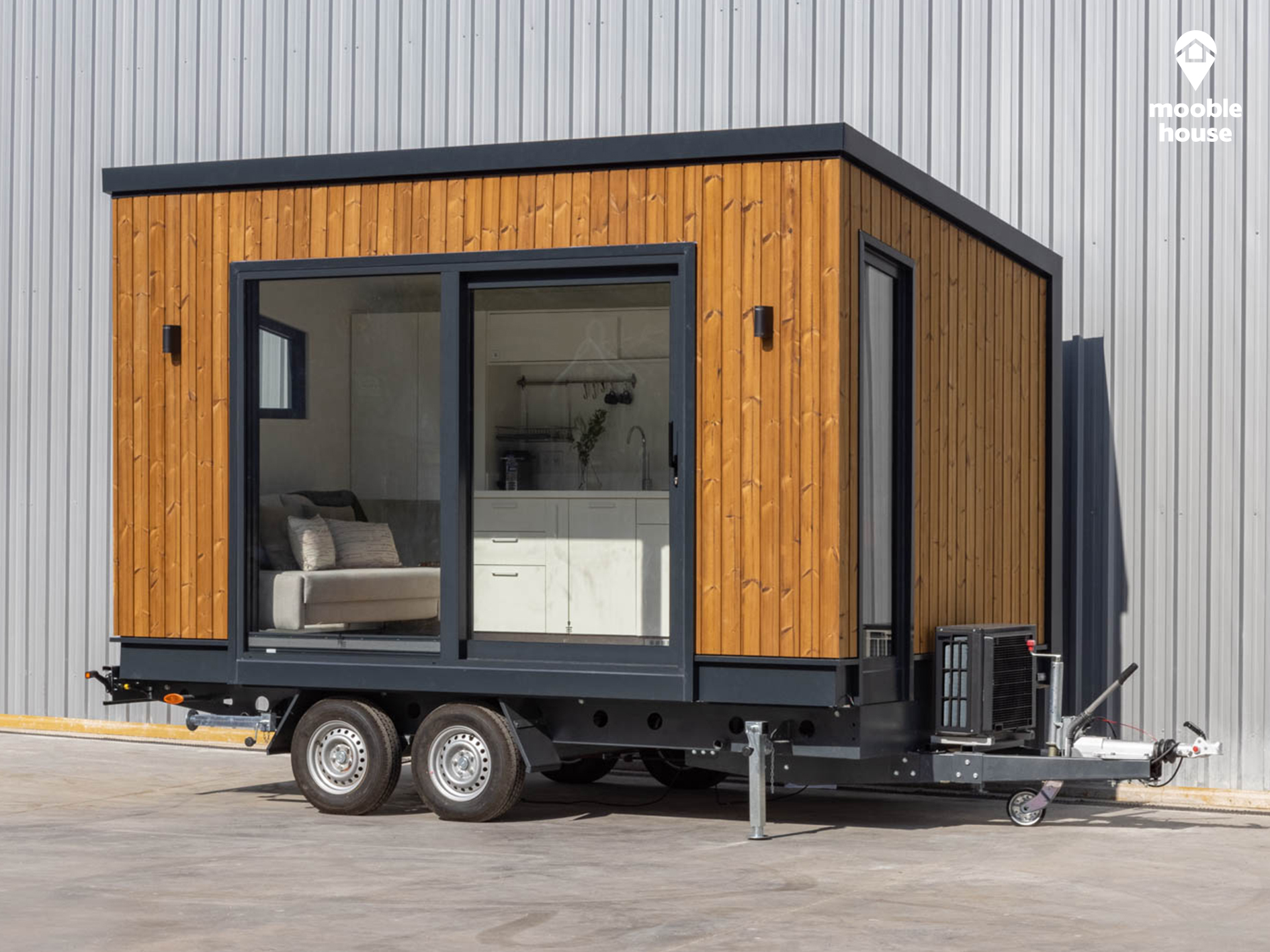 The Mo.4 450S towable Tiny Mooble office is an alternative version of the standard Highline addition providing an ideal workspace. This Mooble Tiny House 4.5m model offers a great space to work with the added benefits of a kitchenette, including two burner hob, sink and an abundance of storage, plus a washroom with shower, sink & toilet. The two person sofa bed in the living area, makes the Mo.4 450S an ideal addition to a garden space as an extra room for your home.

Body Length: 4.5m
Body Width: 2.5m
Height: 3.5m
Berth: 2
---
Mo.5-450 Highline
The Mo.5 450 Mooble Tiny House is designed for those who seek a compact solution, for example, an extra living space in your garden or driveway. With a wooden clad exterior on the sides and metal on the front and rear, giving it a an ultra modern look. Thanks to its functional design, four people can be accommodated in a minimalistic 4.5 meter model with thanks to the mezzanine floor above the kitchen and washroom areas. The kitchen has a two burner electric hob, sink and fridge, additionally the washroom has a shower, sink and toilet.

Body Length: 4.5m
Body Width: 2.5m
Height: 3.5m
Berth: 4