MiRiDER Folding E-Bikes
The Original MiRiDER One
Lighter, more efficient, more torque, greater range, want to know more?
Not all e-bikes are equal. Every part of the MiRiDER One has been meticulously assessed and developed until satisfied they can provide the perfect ride, every single time. From the bare frame, through to assembly and finally the tape that seals the box, every step is carefully carried out to ensure our customers will be grinning ear to ear, ride after ride after ride.


Fun For Everyone
The MiRiDER One is exceptionally versatile whether for the city commute, leisure rides or holidays. Perfect for all ages and abilities and even people with underlying injuries to get back out there.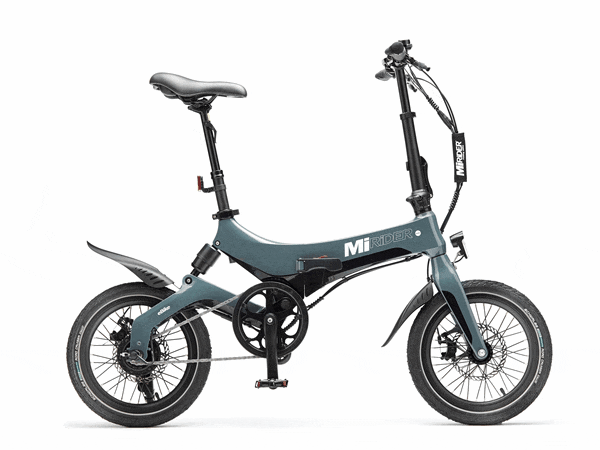 Features
Compact folding in seconds
Weld free magnesium alloy frame
Weight (including battery) 17.2 kg
Large 7 ah Samsung battery
Up to 45 mile range*
(25% more than the previous model)
2 year warranty*
4 hour charge time
Electric pedal-assist up to 15.5 mph
250 watt rear hub motor
25% more Torque
5 power settings
Thumb throttle (unassisted to 4 mph) plus boost (assisted up to 15.5 mph)
Rear suspension
Cable disc brakes
Telescopic seat & handle bar stems
Integrated front light
IP65 waterproof electric system
Puncture protection
* Range dependent on rider weight, weather conditions and terrain.
Even better in 2022!
Longer telescopic adjustable seat post for small and even taller riders.
Beautiful new ultra-lightweight spoked wheels with black aero rim.
High quality CST road tyre for improved grip and wet weather performance.
New 2 finger brake levers for improved precision and modulation.
Less worry with pre installed puncture protection fluid.
New soft touch handle bar grips with anti fatigue hand rest.
Substantial 1.6kg weight saving – now only 17.2kg!
Quieter motor with more torque, improved efficiency and battery range.
Serious Style Points!
The innovative frame is die-cast, breaking away from the traditional welding process to create a streamline chassis with a slick, enviable design. Renowned for its sturdiness, the frame is made from aircraft grade magnesium alloy, making it impressively lightweight whilst offering great shock and corrosion resistance.
Smooth & Responsive
Boasting the latest sinewave controller, the MiRiDER One feels smooth, responsive and powerful. The high quality 250w rear hub-motor assists when pedalling up to 15.5 mph.
They have also included a thumb throttle which provides electric assistance up to 4 mph (when not being pedalled) and doubles up as a boost button up to speeds of 15.5 mph (when being pedalled) for those steep hills or windy days.
Performing superbly in any urban environment, the MiRiDER One's rear shock absorber and medium-width Schwalbe tyres provide a consistently comfortable ride that's guaranteed to keep you smiling ride after ride.
Fast-folding & Compact
As you would expect, The MiRiDER One folds easily in just a matter of seconds. Once more, the 16 inch wheels allow it to take up little space in this configuration. Whether you're commuting, going on holiday or for a ride by the coast, the MiRiDER One folds compactly and securely, fitting easily into you car boot and can even be taken on public transport without a reservation (when carried in a storage bag).
Battery Power
Their Samsung 7ah /252wh battery packs great mileage, thanks to their clever power management system. Combined with the new, more efficient motor and 1.6 kg weight reduction, you can happily see up to 45 miles of assisted cycling from a single charge. That's 4.5 hours of riding at 10 mph – plenty of time for a leisurely ride, a trip to the shops or commute to work. If you do live life in the fast lane, or your commute is pushing the boundaries of the range, why not carry a spare with you? Weighing in at only 1.2 kg, you're only 15 seconds away from being back up to full charge!
Miles & Miles
With the MiRiDER One, expect an assisted range of up to 45 miles.
The battery itself has a 7 ah (252 wh) capacity and is manufactured using genuine SAMSUNG cells. It is neatly concealed within the main frame, leading to great weight distribution and balance. If you need to remove the battery to charge it separately, or to switch it out on the go, access can be quickly gained when the bike is folded and it comes complete with a lock for security.
The 45 mile range is of course dependent on the rider's weight, the weather conditions and the terrain met on the ride, as well as the relative effort the rider puts in. We managed 45 miles on a recent journey in ideal conditions mainly on power level 1.
Here are a few more details:
Route: Middlewood Way x 3 [72.75 km on strava]
7 ah lithium Samsung battery
Tyre pressures – 36 psi
Rider weight – 73 kg
Weather Conditions –
Sunny with gusty wind
Temperature –
21 degrees Celsius
Power levels: 1
Elevation gain – 171 m
No gears, No Worries!

The MiRiDER One is a single speed bike, meaning it just has the one gear. They have thoroughly tested a variety of gear ratios to ensure they found the best one for optimum pedalling-comfort when cruising at 15 mph. This means that you don't have to mess around aligning gears and getting covered in oil, or risk damaging delicate parts when transporting you bike around. Their ultimate aim is to provide you with minimum faff and maximum fun! The larger front sprocket does mean the bike is slower to accelerate from standstill when pedalling unassisted, but this is where the power boost button comes into play. A quick dab of boost and you'll be leaving everyone at the lights. As for hill starts, use that boost to get yourself started and then the power-assist* will do the rest!* Use power level 4 or 5 for steeper hills.
Fully Waterproof
Lockable Battery
Stopping Power
UK-based Clarks mechanical disk brakes
Rider Comfort
Why is MiRiDER so well regarded?
Developed & assembled in the UK.
2 year warranty
Dedicated customer support.
Trusted UK dealer network.
Spare parts & service items in stock.
Excellent on Trustpilot.
Technical Specification
| | |
| --- | --- |
| Motor | Geared brushless rear hub motor |
| Nominal Power | 250 W (UK legal limit) with 40 nm of torque |
| Pedal Assist Top Speed | 25 km/h or 15.5 mph (UK legal limit) |
| Battery Type | Samsung 18650 Lithium-Ion Cells |
| Battery Specs | 36 v 7 Ah / 252 Wh |
| Battery Features | Removable and lockable (chargeable inside or off the bike) |
| MAX Range | up to 72 km or 45 miles (based on power level 1, average pace, rider weight and even terrain) |
| Climbing Angle | 25 degrees maximum (based on average rider weight) |
| Charge Time | 2-3 hours (using 42 v, 2.0 A UK charger supplied) |
| Display | Multi-function LCD back-lit |
| Controller | Sine-wave Torque Simulation KT Controller compliant with all UK legal parameters. |
| Dash board readouts | Speed (km/h or mph), distance travelled ODO/trip (miles/km), battery % level, pedal assistance level, Led headlight (on/off) |
| Pedal Assist | 5 levels |
| Frame/Fork | Full integrated magnesium alloy |
| Accessories Included | Front/rear mudguards, Front LED light, rear reflector, folding pedals, kickstand & stabiliser wheel, wheel magnets for secure folding, adjustable folding strap & battery charger. |
| Folded & Unfolded Dimensions | 770*430*680 mm / 1340*575*1100 mm |
| Brakes | Front and rear Clarks CMD-24 disk brakes |
| Comfort | Rear spring damper |
| Tyres | CST tyres with reflective side walls 16"x1.75" |
| Wheels | 16" wheels with aero rims and a MiRiDER designed 1 piece front hub |
| Chain | KMC e-bike specific |
| Total Approximate Weight Fully Equipped | 17.2 kg |
| Maximum Recommended Rider Weight | 120 kg |
| Rider Height | 152 cm - 195 cm / 5'0 - 6'4 |
| Road Legal | Worldwide |
| Optional Accessories | Additional battery, pannier rack, storage bag, pannier bag, phone holder and more |
Cost
£1595
Delivery not included